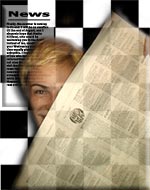 Time flies fast. Another year is approaching its end, and it is my pleasure to invite you once again to the WAWMP Special Closing End of the Year Party! I am sure this evening will be special! At 8:30 we are going to start our Special Lottery and Meetingpoint Award Ceremony. We are going to have a very special prizes from our Sponsors: Renaissance Moscow Hotel www.renaissancehotels.com - Brunch for two, Dinner for two and Gift Certificate for their well-known Cake Gift Certificate from European Medical Center www.emcmos.ru Gift Certificate from City Spa Gift Certificates from City Class www.cityclass.ru Tickets from The Moscow Expat Site www.expat.ru Massage treatment for selected guests and prize winners...... and live music at the end...... This event is not to be missed!!! I very much hope to see you tonight! Sincerely, Irina Usenkova
We are approaching the end of the year and the holiday season very fast - we are now only 5 weeks away from New Years Eve! Many of you will soon start enjoying your well-deserved X-mas break... so you have 2 more chances this year to meet new people and socialize at the Wednesday AfterWork Meeting Point! This week and next one I am very pleased to organize this event for you, before we all go for a short break to charge our batteries again for 2006. Therefore I really hope that you will not miss the chance to join us this and next week, as there will be plenty of new "opportunities" just waiting for you.
It will be a great pleasure for me to see you tonight at the Wednesday Afterwork MeetingPoint! I think such a beautiful autumn puts everybody in a special mood. For sure it does not leave you indifferent. At least that is true for me, so I believe it should be more or less the same for everybody... To add some more emotions to the this week's event we are glad to present you with the tremendous Exotic Show. I cannot find words to describe it, so please come and witness it yourself.
Following last week's wonderful tango lessons by City Class, this week we would have live music and wonderful Latino dances by "Tropicana" band, thanks to sponsorship support from Pepsi Bottling Group For those who is not so much in favor of Latin dances, there would be a chance to watch Russia vs. Slovakia football match, that would be showing on all TV screens in the club starting at 18:50. See you on Wednesday!
If you have seen the movie "Scent of a woman", you must have remembered a scene in which Al Pacino dances tango with a beautiful female stranger. If so, I am sure it must have made an impression on you! I have seen the film five years ago, and always remember that scene. The reason I remembered it now, is that tonight, together with the Cityclass www.cityclass.ru, we will have a remarkable opportunity to plunge into the magic world of the Argentinean tango. Come and witness the beauty of this wonderful dance!
The summer is over. Again. Again we have a feeling that it was too short. Again the rain will start and the cold weather will come. And again the WAWMP traditionally will be here for you. And I'm sure it is a VERY good NEWS. And as always, it is my pleasure to invite you once again to the Wednesday AfterWork MeetingPoint this week, which will take place this week at Coconut's at the usual time of 7pm!
I want to inform you that starting this week the Wednesday After Work Meetingpoint is going on summer holiday till September. I would like to wish you a great and productive summer, as well as a very relaxing and enjoyable vacation (in case you are going to have one). I'm looking forward to see you back in September fully rested and with a lot of energy. The details would be announced on our web site (http://www.meetingpoint.ru) at the end of August, and I will also inform you about any changes by e-mail. In the meantime I will be very happy to hear from you, and answer any questions you might have. As always, sincerely yours, Irina Usenkova (irina@meetingpoint.ru) Wednesday AfterWork Meetingpoint Organizer
I feel that we had a very nice opening night last Wednesday at Coconut's. Even the problems with the electricity added a special atmosphere to this evening. As I have received many letters with questions regarding the format of our event at a new place, I am pleased to inform you that no cardinal changes have occurred so far. We have the same entrance regulations as stated in http://www.meetingpoint.ru/regulations.html. Existing WAWMP Membercards ARE VALID at Coconut's as well. For Wednesday evenings, we have special prices for some dishes from the basic menu and wine.
As you probably already know (either from the announcement last time, or from rumours), the Wednesday AfterWork MeetingPoint is moving from the Boarhouse to another location, Club Coconut's, Myasnitskaya, 15. Due to this move, the Meetingpoint WILL NOT take place tonight. For more information and announcements of the next Meetingppoint events, please visit our web site http://www.meetingpoint.ru/. Also, feel free to e-mail me if you have any questions or concerns. Hope to see you at the new Meetingpoint location soon!

I sincerely hope to see you tomorrow!
33 is a weird number. It is misterious and strange - strangely enough, I feel much joy thinking that I am already 33! And, for some mysterious reason, many people are inspired by the same number: there is a milk brand "33 cows", there is also a song called "33 cows" and "33 bogatyrs" were subject in one of Pushkin's poem!
I do hope to see you tomorrow as there will be lots of fun!!! Cityclass master classes (http://www.cityclass.ru) will be with us, which means that an interesting time is guaranteed!
Finally, as this will also be the last Meetingpoint at the Boar House, come and share with us some good old memories, as there are many interesting stories that have passed through this location. The event will continue at some other exciting venue, and more detailed information will follow soon on our web site http://www.meetingpoint.ru! Stay tuned!
See you tomorrow!
Irina Usenkova
I sincerely hope that you will find a way to join us today, because thanks to our sponsor, CityClass (www.cityclass.ru), you would have a unique opportunity to master four main Latin-American dances - rumba, cha-cha-cha, samba and jive. To learn Latin-American dance is much easier than you might have thought - especially if your instructor is Svetlana Sborshikova, a finalist of Russian Championship on Latin-American Dance and a winner of Moscow Championship.

It is my pleasure to invite you to the 6th Year Anniversary of International Wednesday Afterwork Meetingpoint, that will take place this week, at the usual place and the usual time! More precisely:


Date: Wedneday, March 16
Time: 19:00, till the last guest leaves!
Place: Doug & Marty's Boar House Moscow, Zemlyanoy Val, 26


In addition to the traditional complementary drinks from 7 to 9pm and discounts on food menu till 8pm, this week we have prepared a special programme for you, that includes live music, special lottery items, Meetingpoint Memory Tour, and much more! Please, join us this Wednesday on this special occasion to experience everything yourself!
Due to European Football Championship games showing live at Doug & Marty's Moscow, Meetingpoint event on June 16 and June 23 starts at 18:00. Entrance regulations take effect until 20:00. For more information please contact irina@meetingpoint.ru. Game schedule:

| | | | |
| --- | --- | --- | --- |
| June 16 | Greece v Spain | 20:00 | Group A |
| June 16 | Russia v Portugal | 23:00 | Group A |
| June 23 | Netherlands v Latvia | 20:00 | Group D |
| June 23 | Germany v Czech Republic | 23:00 | Group D |

Pepsi botteling group sponsors the Steet Band to play at Wednesday Afterwork Meetingpoint on April 14, 21 and 28, 2004.
Meetingpoint staff wishes you Happy New Year and Merry Christmas, happiness and business successes in 2004!
Now it is possible to reserve a table at the meetingpoint event. Table reservations are accepted before 12:00 on the day of the event by e-mail at reservations@meetingpoint.ru.