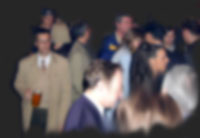 Wednesday AfterWork Meeting Point is the premier business and social networking event in Moscow. Every Wednesday, expats from all over the world join local professionals in order to get together to exchange ideas, meet new people, and keep in touch with good friends. It is not to be missed!
In addition to great opportunity to socialize, it also features:
Business card lottery - every week you can win a valuable prize from our sponsors. Do not forget to bring your business card to participate!
Complimentary beer and champagne are served between 7:00pm and 9:00pm. For Wednesday evenings, we also have special prices for some dishes from the basic menu and wine.
The event is open to expatriates and Russians from the local business community, subject to entrance regulations.